Quick quiz for you!
Who is best placed to give you detailed information on how a horse will perform?
Is it A) Tipster, B) TV Pundit or C) Trainer?
If you said C then well done...you win...ermmm...the right to carry on reading! 🙂
Okay, that might sound like a 'cop-out' prize – but trust us, you won't be disappointed as there's a special 1p OFFER (Normally £30) waiting for you below (that's the real prize) – and to claim this 1p offer all you need to do is sit back and carry on reading...easy-peasy!
DAILY INFORMATION FROM SOME OF THE BEST YARDS IN THE UK
We currently have 16 yards on our books...and they're BIG NAMES too!
Members get daily 'behind the stable door' info from Kim Bailey, Warren Greatrex, Micky Hammond, Shaun Keightley, William Knight, Charlie Longsdon, Charlie Mann, Brian Meehan, Hughie Morrison, Fergal O'Brien, Ben Pauling, Nicky Richards, Oliver Sherwood, Ali Stronge, Harry Whittington and Ian Williams.
Since going live in 2010 we've managed to build up a strong relationship with the trainers...so they are not afraid to give their honest thoughts and opinions.
SIGN UP TODAY - ONLY 1 PENNY FOR 1 MONTH!
RUN BY FORMER DAILY TELEGRAPH RACING EDITOR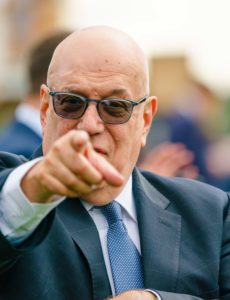 Tony Stafford was the Daily Telegraph racing editor for 30 years...and he now deals with the day-to-day contact with the yards for us. He really is the perfect person to sort the wheat from the chaff.
Tony has a great relationship with the trainers. He speaks to them all every day and they're not afraid to give him their honest assessment of their daily runners chances.
The full 'warts and all' picture is shared with Tony (ground, track, trip, draw, handicap mark, general heath...to name but a few). Tony then uses this valuable information, along with his decades of experience, to choose his NAP and NB picks for the day.
Tony's contacts and racing knowledge mean these daily NAP and NB quote selections are a must-see...and best of all are FREE to all members.
Between 12/08/19 and 08/11/20 Tony's NAP and NB selections made a profit of 139.33 points using BOG bookies. GIVING A TOTAL PROFIT OF £1,393.30 WHEN STAKING £10 PER POINT. Click here to view the full results.
Tony's ability to identify the best information with laser targeted precision is legendary. Between 28/10/20 and 07/11/20 his NAP and NB selections have produced eleven 1st and one 2nd from just 21 races. That's an incredible strike rate of 57.14% and a profit of 18.60pts to advised odds. This rises to 20.59pts when using BOG bookies. THAT'S A VERY NICE £205.90 WHEN STAKING £10 PER POINT!
FREE TIPS FROM A TOP PADDOCK JUDGE
Members also get free daily tips from respected paddock judge Ken Pitterson.
Ken has been involved in racing for over 30 years and has worked as a paddock judge for almost the same amount of time. His breakthrough was advising on course bookmakers on how horses looked prior to their races.
Ken has worked for 15 years on the Racing Post Weekender as their talent spotter and can be heard on William Hill Radio paddock side throughout all the big meetings.
He also works as an advisor for Jim Crowley and Sheik Hamdan Al Maktoum...so he really is perfectly placed to judge a thoroughbred in terms of career, age, maturity, form, etc.

SIGN UP FOR 1 PENNY TODAY!
Q: How will I receive my trainer information?
A: Email and members area login.
Q: When will I receive my trainer information?
A: Before 11:00 (UK time).
Q: How much trainer information will I receive?
A: All trainers provide daily information on all their runners.

Q: What happens after I join?
A: Your account login details will be emailed to you immediately after you join

SIGN UP TODAY - ONLY 1 PENNY FOR 1 MONTH!