Be in-the-know with Top Trainer Advice
Ask yourself this…………Who is better placed to give information on how a horse will perform?
Answer – not a horse racing tipster or the TV pundits – But the 'ACTUAL' trainers themselves!
So, How Does It Work?

We have 14 TOP TRAINERS on the FromTheStables service.
Our trainers – yes, the actual trainers themselves – are then personally contacted each day to give us the lowdown on how they feel their horses will run.
Even better. Since going live in 2010, we've managed to build-up the perfect relationship with our yards, so they are not afraid to give their honest thoughts and opinions.
This trainer information is then emailed to subscribers and posted in the secure members' area, around 10am each morning.
Tony stafford - Editor-in-Chief of FromtheStables.com
When it comes to horse racing Tony's pretty much been around the block.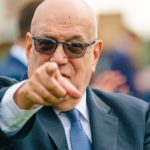 He's been involved in various areas of horse racing all his adult life and during that time has been Racing Editor, Correspondent and chief tipster on the Daily Telegraph, not to mention having also won the Sporting Life NAP's competition three times.
Since 2007, Tony has also been Racing Manager to top owner – Raymond Tooth – while it goes without saying that over the years, he's built up solid relationships with top industry figures both in the journalism arena and also with many top yards.


Who Speaks To The Trainers?
The Service is run by former Daily Telegraph Racing Editor Tony Stafford.
Tony's contacts and racing knowledge mean his daily NAP and NB quote selections are a 'must-see' on their own, and best of all are FREE to all FTS members.
Tony has won the William Hill NAP's Table)multiple times relying solely on his FROMTHESTABLES daily selections – further proof that he's one of the best tipping judges around.
Tony is great at reading between the lines when it comes to the trainers, meaning he can decipher when a trainer is perhaps being a little pessimistic with their thoughts on a particular runner, or a little too optimistic. This makes the FromTheStables tips a must have for any serious punter.
WHAT TRAINERS CAN I EXPECT TO GET INFORMATION FROM?
GET TOP DAILY STABLE INFO FROM THE LIKES OF IAN WILLIAMS, BRIAN MEEHAN, CHARLIE LONGSDON, NICKY RICHARDS, BEN PAULING, FERGAL O'BRIEN and HUGHIE MORRISON – plus 9 more
New trainers being added all the time, with Ian Williams, Brian Meehan, Hughie Morrison, Shaun Keightley and Ali Stronge the latest to join the ranks! Our trainers continue to hit the spot time-after-time.
A QUICK RE-CAP OF OUR SERVICE
Oh, and it's not always about finding the winners!
Many members also use the daily stable information to rule out certain horses.
Maybe, laying them on the exchanges or even back other runners based on a trainer not particularly liking their chances that day.
We also encourage members to take time to get to know the way each trainer talks about their horses in their reviews – but this doesn't take long, just a few days.
Each trainer is slightly different on how they talk about their horses. However, after just a few days you'll quickly pick up the feel of things and get used to how each one quotes.
In short, each one will have varied ways of telling you about their horse's chances of winning or not. Some like to give a bit more background on the horse, while others just like to cut to the chase.
This will give you the 'REAL' wellbeing of each of our trainer's runners that day – meaning you don't have to 'bet blind' or make any uneducated guesses.
OUR TRAINERS HAVE BEEN HAND-PICKED –
Our trainers have also been carefully selected and are all medium sized stables. We believe this size of yard work harder on their horses than some of the very big stables and have some very nice priced winners too!
Unlike some of the 'big gun' yards that might have upwards of 20 runners some days, it's a lot easier for the slightly smaller yards to give better opinions on their horses if they only have 3 or 4 horses running for them each day.
However, with 14 yards, then even if our trainers only have 3 runners each per day that's still 51 pieces of top-quality information to take the bookmakers on with!
Try that. You should be able to figure out which bits have images, which bits are titles, etc as it's all very similar to the existing page
After that, if you want to create a test version of the TQ home page in the same style as the FTS home page I can fill in the content gaps (there is effectively no actual content on the TQ home page so I'll write it from scratch
In fact you can just include the FTS home page written content as a lot of it will just need rejigging, the stuff about Tony Stafford, etc will be remaining pretty much the same (although I'll reword it)
4